Preschool
​​​Do you have a child who will be 3- or 4-years-old by September 30, 2022?
The Albemarle County ​Public Schools preschool programs are now accepting applications for the 2022-23 school year for children whose families are eligible.
For more information, please contact Lisa Molinaro, ACPS Preschool Lead Coach, at lisamo@k12albemarle.org or 434-296-5820 ext. 13524.
To learn more, access the application and frequently asked questions at at our ACPS Preschool Application and Information page​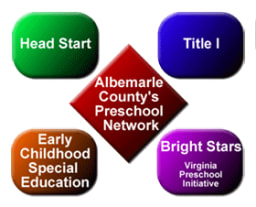 Preschool Network Application Forms
Click here to access Go2Grow application
​Bright Stars
The Bright Stars Program is a state and locally funded early intervention and prevention program provided in collaboration with the Albemarle County Public Schools, the Albemarle County Department of Social Services and the Albemarle County Board of Supervisors. The program serves 4-year-olds who may be at risk for developmental and/or educational challenges. A variety of child and family risk factors are considered including low or limited income, homelessness, limited parent/guardian education or an identified disability. Other risk factors may be considered such as single parent households, mental or physical health concerns, domestic violence, substance use and abuse or neglect. Eligibility is based on an assessment of risk factors. Eligible children are served in their neighborhood school, where they will attend Kindergarten, with few exceptions. In addition to a high-quality preschool experience, the children and their families are provided support and case management by a Bright Stars Family Coordinator through the Department of Social Services.
Bright Stars preschool classrooms are located at the following elementary schools: Agnor-Hurt, Mountain View, Greer, Red Hill, Scottsville, Stone Robinson, and Woodbrook.
Students living in the Stony Point district may attend the preschool program, if accepted, at Stone-Robinson Elementary. Transportation is provided to Stone-Robinson from one bus stop located at Wilton Farms. If that stop is inaccessible to families, they may provide their own transportation to Stone-Robinson.
For families not living in a school district with a Bright Stars preschool classroom, as space permits, families who are eligible for enrollment and able to provide transportation to/from school, may attend at a different site.
Additional Information
Application Process
Families are encouraged to apply online at Go2Grow.com or submit a paper application which can be found at the links above.
Applications are accepted throughout the school year to fill vacancies as they occur.
PLEASE NOTE:Submitting an application does NOT guarantee enrollment. Regrettably, all families cannot be served however, a waiting list for enrollment in the program is maintained.
Contact
Lisa Molinaro, ACPS Lead Coach for Preschool
lisamo@k12albemarle.org
Albemarle County Public Schools
401 McIntire Road
Charlottesville, VA 22902​
(434) 296-5820​
Early Childhood Special Education (ECSE)
The Early Childhood Special Education (ECSE) program serves children ages 2-5 years old (as of 9/30) who have been found eligible for special education with an identified disability. Classroom programs are located in several elementary schools, where up to 8 children with special needs are taught by a certified ECSE and preschool staff, in the context of a center-based or inclusive preschool classroom. Students who are eligible for ECSE receive special education services according to Individual Education Plans (IEPs).
Application Process
All preschool referrals for consideration for special education (including referrals for speech concerns) should be directed to the Early Childhood Special Education Office at (434)973-2490.
Head Start
MACAA Head Start is a federally-funded child development program for 3 and 4-year-olds that provides services to promote the academic, social, emotional and physical development of children from income-eligible families. Head Start classes are currently located at Agnor-Hurt Elementary, Crozet Elementary, Greer Elementary and Hollymead Elementary. The program also has classes at the Park Street MACAA location.
Conta​ct
Lina Abril-Montoya, Head Start Program Coordinator
lmontoya@macaa.org​
Monticello Area Community Action Agency
1025 Park Street
Charlottesville, VA 22901
(434) 295-3171 ext. 3008
For additional information contact:
Lisa Molinaro, ACPS Lead Coach for Preschool
lisamo@k12albemarle.org​
Albemarle County Public Schools
401 McIntire Road​
Charlottesville, VA 22902​
(434) 296-5820​​​​